george schuller's circle wide :
like before, somewhat after
playscape recordings PSR#060607
[Back to Circle Wide home page]
| | |
| --- | --- |
| 1) dew point - george schuller | 8:33 |
| 2) common mama | 9:16 |
| 3) survivor's suite (pt 1) | 11:57 |
| 4) survivor's suite (pt 2) | 7:49 |
| 5) rotation | 6:24 |
| 6) de drums | 11:54 |
| 7) back to school - george schuller | 8:39 |
| 8) encore, b | 3:35 |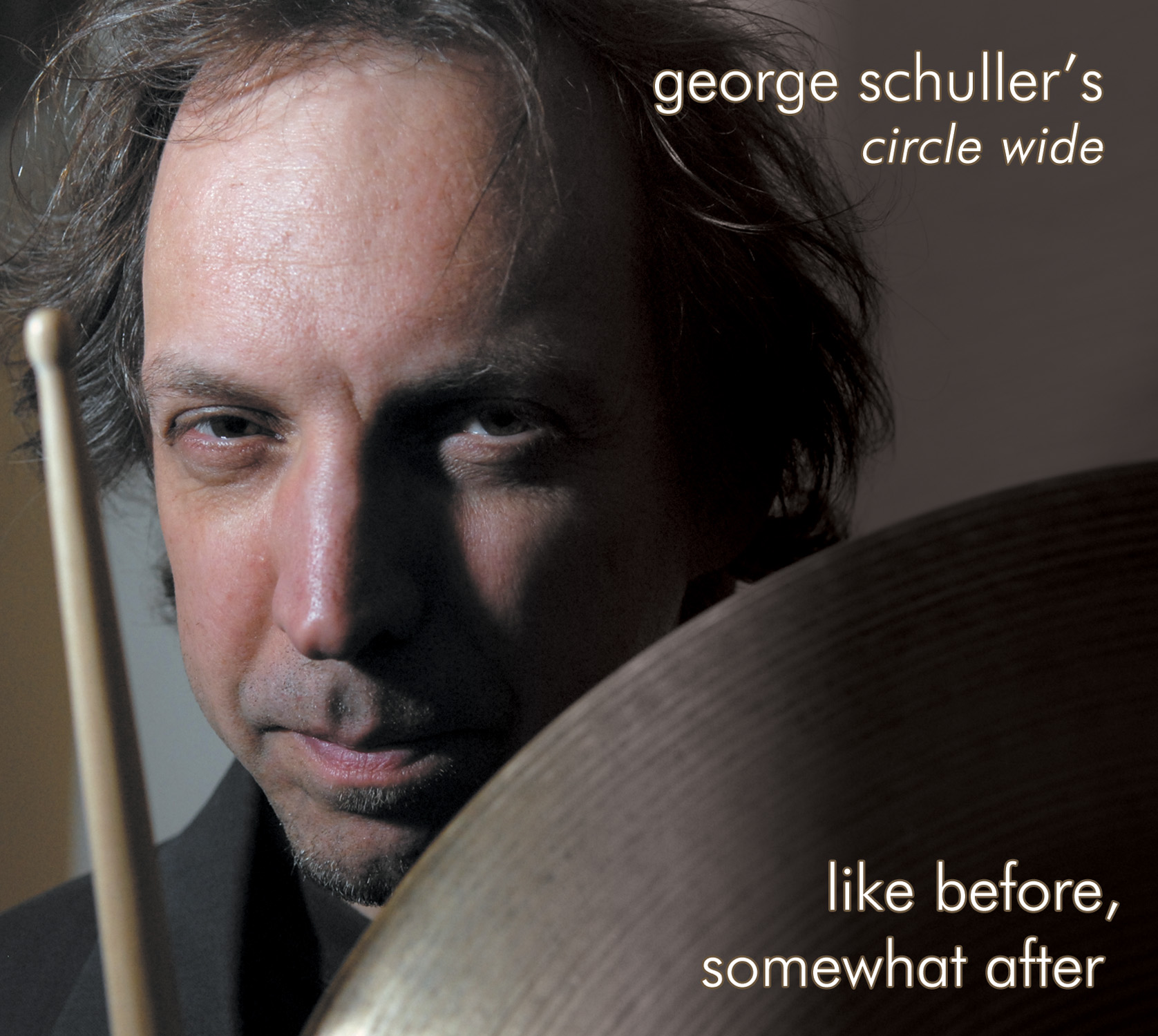 [To purchase Like Before, Somewhat After and other CD's by George Schuller, please visit CD Baby. ]
donny mccaslin, soprano & tenor sax, alto flute; brad shepik, guitar; tom beckham, vibes; dave ambrosio, bass; george schuller, drums, bells and other rattly things.
with special guest: jamey haddad, percussion
recorded at systems two, brooklyn, ny june 5 & 6, 2007
all compositions by keith jarrett except where noted.
Brooklyn-based drummer/composer George Schuller pays tribute to Keith Jarrett's American Quartet on Like Before, Somewhat After, the second release to feature his longstanding working band, Circle Wide. Three decades after the demise of Jarrett's underappreciated ensemble, the group skillfully reinvents six of its favorite tracks from the Jarrett catalog, some of which it has been performing live in New York for years, and documents two Schuller originals inspired by the source material.

"Keith Jarrett's American Quartet, featuring saxophonist Dewey Redman, bassist Charlie Haden and drummer Paul Motian, is generally regarded as one of the more exciting and influential working jazz bands of the 1970s," writes journalist Bill Milkowski in the liner notes. "Together [Schuller and Circle Wide] succeed in capturing the amazing elasticity and rarefied inside/outside aesthetic that Jarrett achieved 30 years ago."
SOME RECENT REVIEWS:
**** Schuller revisits the funky, syncopated gem "Common Mama" with fresh energy, the expressive two-part "Survivor's Suite," a rocking "Rotation" and the easy-going "De Drums" as if originals. Schuller, Beckham, McCaslin and Ambrosio evoke the spirits of Paul Motian, Gary Burton, Dewey Redman and Charlie Haden.
— John Ephland/Down Beat
Embracing the lyricism inherent in Jarrett's writing, Schuller's ensemble offers one of the most euphorically adventurous albums in recent memory. Expounding at length on the pianist's folksy themes, the ensemble breathes new life into these enduring melodies.
— Troy Collins/AllAboutJazz
Like Jarrett's American Quartet, Schuller's Circle Wide is a group where nobody's a star and everyone's a star. With plenty of outstanding solos, it's the interaction of the group—and it's ability to approach this unequivocally lyrical material with the relentless pursuit of free expression—that makes Like Before, Somewhat After stand out as both a fine tribute and an album that stands on its own very fine merit.
— John Kelman/AllAboutJazz
What I liked is that it takes the politeness out of Jarrett's music, and puts an earthier taste into it without in any way violating the beauty of these admittedly very beautiful tunes.
— Brian Morton, PointofDeparture.org