QUOTES ABOUT ORANGE THEN BLUE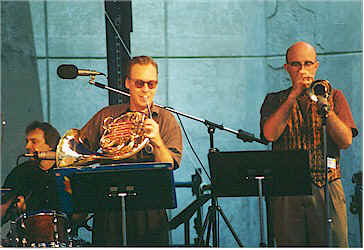 "It was left up to Orange Then Blue to combine a grand mix of collective ensemble playing with individual expression. This band was the only group that provided a real surprise during the festival."
--Abendzeitung, Munich (Berlin Jazz Festival-Nov. 95)

"Orange Then Blue can swing as hard as anyone...expanding the tradition ....ambitious nature...the band pulls off its ideas." --Musician

"The Twelve 'kids' of Orange Then Blue, associated more or less with New York's Knitting Factory, excavate uninhibitedly in the quarries of Jazz History, freely appropriating themes, motives, sounds and styles, dismembering them and unashamedly splicing them all together again in daring new combinations. There is a sort of 'freak-aesthetic,' which we know already from Charles Mingus and Gil Evans (admittedly among the models for band-leader George Schuller), offering a provocative, ebulliant music: a precarious game without a safety net. The combinations are cleverly chosen, the individual patchwork elements exactingly tailored, all fitting precisely with the music's well-defined rhythm/meter changes and sharp stylistic breaks. This challenging music demands much from the listener, because its many parts yield their meanings only when heard in the total context."
. --Tages-Anzeiger Zurich (Berlin Jazz Festival-Nov. '95)

"..increasingly tight, challenging music. Five albums, many tours and kudos later, OTB has moved into pinpoint ensemble focus."
--Down Beat

"The musical maturation of Orange Then Blue continues at a startling pace...a wonderful sense of spontaneous fun..."
--Boston Globe

"Flawless and often hilarious...the band has grown even earthier in their world music extrapolations...the continuing evolution of a first-rate ensemble."
--Boston Phoenix

"This band is not merely promising, it's arrived..."
--Isthmus Magazine

"When a band as culturally diverse as Orange Then Blue takes the stage , you don't need a playlist. Instead, bring a good atlas."
--Calgary Sun

"Wow....what a band....Fantastic!"
--Joe Lovano, saxophonist & Blue Note Recording Artist